How to sell your art at Canadian Comic Cons
– the illustrator's guide to Artist Alley (2023).
Step-by-step to tabling.
In this guide, we'll cover:
What is Comic-con?
Comic-Con is a multi-day event held in convention centers in major cities around the globe. Although originally focused on comic books and science fiction/fantasy themes, it has expanded over the years to include broader entertainment-related genres.
If this is your first event, I recommend that you:
apply to an event located in or near your city to reduce expenses (travel & lodging)
opt for a smaller or a mini-convention, the fees are lower and the event is shorter (more manageable)
be as prepared as possible
Is tabling at artist alley right for you?
In terms of the GENRE, as a traditional visual artist who creates black & white line drawings of mostly birds – from my perspective, artist alley is similar to an art fair with a pop-culture vibe.
Attendees are interested in seeing various creations including original artwork, prints, posters, stickers, buttons, cards, handmade crafts, toys, apparel, books, and much more. People usually go to buy something even if just as a memento.
If you're wondering about the caliber or level, the artist alley section is curated for amateur and semi-professional artists. From what I assessed in perusing the other booths, my very subjective opinion is that the organizers welcome a wide scale of skill levels.
Moreover, even though the pillar themes are comics and anime-related, the event attracts people who appreciate talent and creativity in general. If you're an illustrator in a similar niche to mine or consider yourself more on the fine arts spectrum – if you can make physical reproductions of your art, you can sell them at artist alley.
📚 For ideas on how to get your art to the "exhibit-ready" stage, read this article NOW.
Application process
Nonetheless, getting in is not a guarantee. To improve your chances, apply early as some events sell out right away.
Provide a short bio describing your products or service offerings. This helps organizers determine which category to slot you in, whether in the Comic Creator section selling on-site commissions and related products or more of a Vendor of "paper" or "crafty things".
Be sure to read the event website thoroughly beforehand as there may be restrictions on what types of products you can sell. Not all events will allow merchandise or plush toys at an artist alley table. If in doubt, stick to paper things (originals, prints, cards, stickers, books).
You'll need an online portfolio which can easily be set up on a free website platform or even as a PDF/Google doc for the smaller events. Bigger events, like a Fan Expo, will in addition to a portfolio require that you have a website or a web store, and/or social media accounts. You may also be asked to list past events where you've exhibited, however, this is not a requirement to be accepted.
My updated booth in Montreal 2023.
Also, give some thought to the name under which you'd like your business to be listed on the event program. This will also help you promote your booth name and location for fans to find you.
If you're wondering what type of table space to purchase for your booth, commonly available setups are 6 or 8-foot tables that come with two chairs and two exhibitor passes. Everything else is generally extra, such as wifi, power, insurance, or a premium location.
Some events will offer display hardware rentals. This can be pricy, especially if tabling at conventions is something you're considering as a re-occurring thing. You may consider sharing a table with another artist – and I'll talk more about how to connect with artist alley communities further in the article.
Know that you may be required to pay upfront or a percentage of the total fee along with your application.
You can expect to hear back about your application at least 6 weeks prior to the event if not sooner.
Logistics
If your event is local and you're familiar with the area, logistical planning is more straightforward. Otherwise, there's planning for travel and accommodations. Typically, convention centers are located in busy areas of large cities, so plan ahead for where to park, related fees, along with load-in/load-out procedures. You should also determine the best method and equipment to transport your exhibition gear to and from the venue.
Product inventory
Next is determining your inventory:
what products to sell
dimensions, quantities, pricing, incentives
how to package your products
I was advised that premium or higher price-point items are slower to sell at artist alley, such as gallery-quality screen prints or original art (unless you're a celebrity comic artist). Think of these conventions as a huge marketplace with a lot of competition (like Etsy). There is more of a trend toward purchasing a little from many tables rather than purchasing big from a few tables.
Having said that, people do love to see original art and I have successfully sold pieces (>$100) at my table. Ideally, your originals are displayed in a frame, canvas, or at least in a rigid framing mat and cello sleeve.
Having a portfolio of originals at your table for fans to flip can be an attraction. However, be mindful that it runs the risk of getting damaged. I used to have my originals in a portfolio and have since switched to displaying only a select few originals in picture frames, with the remainder tucked away.
Instead, I created a catalog of what's available listing the names of each artwork piece, dimensions, formats, and pricing. I typically have between 25-30 different subjects (designs) in my catalog at the time.
For prints, the general guideline for most vendors is these dimensions and price points:
4×6 print $5-10
5×7" print – $10-15
8.5×11" print – $15-20
11×17" print – $20-25
incentive deals with purchase of more than one item
As for print quantities, it depends. The rule of thumb for a three-day event is approximately:
20-25 each of your most popular subjects (top sellers) in the various available dimensions
8-10 each of the other subjects (testing the market)
The gamble is getting stuck with overstock or selling out and missing out on sales. If you have the means to produce inventory affordably with ease and without concerns about overstock, then I would bring a surplus. Another option, if you sell out, is to produce inventory during the event for the following day at a quick-print service, like Staples.
As for formats, in addition to prints, other popular items include stickers, postcards, folding cards, buttons, bookmarks, and posters (18×26").
Packaging
At a minimum, use a transparent resealable (plant-based) cello sleeve or something to protect the prints. Because my prints stand vertically in a bin on the table, I also insert a rigid chipboard sheet along with the cello sleeve.
In the beginning, I slipped a business card inside the packaging but later had a branded stamp made. Now I stamp the back of the chipboard instead. It's economical and looks nicer too.
I ran out of business cards on both my first and second conventions. Five hundred cards per event! They were fanned on the front of the table and everyone stopping by would grab some. So, no need to also include a card in the packaging.
I use Avery #2311 for price stickers and bring along spare labels and extra pens.
It's a nice touch to provide bags with purchase. I had two types. Large clear bags to show off the art and small paper bags stamped with my branding. Some tables did not provide bags and customers did voice appreciation for that extra care when I offered them a bag.
🎨 Visit my FAQ page for the full list of tools, materials, and supplies I use in my art studio.
Your value-proposition
Attractiveness and ease of quick perusing are key. Attendees tend to do a few laps to assess the entire floor before making decisions. Upon a great first impression, people immediately stop to browse or even tell you that they plan to return for a purchase.
The most basic and effective way to impress is to be welcoming. Are you uncomfortable in crowds or with public speaking? If so, that unease will evaporate as soon as you start talking about your art.
Beyond saying "hi" or "I like your costume" you can quickly launch into providing information about what you're offering from your display. What is unique or memorable about your products?
If you're nervous about sounding like a sales pitch, jot down a few key points ahead of time. For example, my value proposition and key points are to:
emphasize that my art is hand-drawn traditionally with dip pens
show the dip pens (on display)
point to the framed originals
invite them to browse the catalog
explain the print dimensions, formats, pricing – and special incentives
mention how long each piece took to draw
tell the story behind each subject drawn
tell them about my YouTube channel for tips & tutorials
invite them to visit my socials, and website, subscribe to a newsletter
Remember to have fun. For me, the main motivation for tabling at conventions is to interact and connect with fans in person. As well, as a chance to learn from and exchange tips with other artist vendors. Year-to-year you'll likely see the same people at these events and make like-minded friends.
Table display and booth hardware
A branded display, such as distinct colours, logo, and/or brand name is good for retention. My booth and table display are black with a branded banner and table runner. People said that they easily recalled my black booth with the ink birds.
Some events supply a tablecloth and skirt, some don't. Regardless, best to have your own. Choose a tablecloth that will cover the table to the floor. Also, bring a large binder or bulldog clips to secure the skirt or cloth in a raised position for easy access to your containers and snacks under the table. Expect to be constantly restocking and reaching down for items, so it's wise to organize your setup functionally.
For the display structure, a popular choice is the plastic or wire storage units that can be assembled in any formation. I used the wire panels to create a tabletop wall as a backdrop for hanging samples on and secured it to the table with bulldog clips.
Height matters. Aim to hang your best items at eye level or higher so that people can see even when your booth is crowded.
Initially, I used binder clips with key rings for hanging items on the wire unit. However, this method was time-consuming to assemble, heavier to transport, and sort of unprofessional looking (in my opinion). Not to mention – if not super-careful the clips made dents on the prints, ruining them.
Another option if using binder clips with key rings is to produce laminated hole-punched prints that you re-use as your display samples at every event.
Since my print selection changed from show to show, I switched to using 1.6×1.2″ self-adhesive sticker hanging tabs on the back of the sample prints. The tabs can be re-used without damaging items and this method looked significantly better. As a matter of fact, I sold out of the most popular prints on the first day of switching from the clips to the invisible tabs.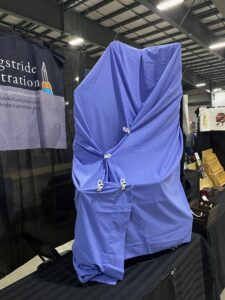 I have two tabletop wire baskets — one with 8.5×11" original drawings and one with 8×10" prints. Originals are packaged with a beveled-cut picture mat with a rigid backing, into a transparent cello sleeve. The second basket has rigid-mat dividers for ease of flipping through prints. I keep five prints of each subject in the basket and restock from the storage bins under my table as each sell.
At my first two events, I arranged folding cards and mini prints into several small baskets. But they were overshadowed by taller items and awkward to access.
I eventually invested in a tabletop literature wire rack to display those smaller format items. As well, added three foldable wire tabletop easels for displaying framed originals. The uptake in sales was immediate as a result of these minor investments in my display hardware.
It's rare that an art vendor booth will be set against a wall or a curtained backdrop. This is typically reserved for the comic artist's section of artist alley. Therefore, I recommend investing in an 8×8' adjustable photo stand backdrop. Be sure to order the flatfoot bottom over a tripod bottom. The flatfoot legs are less of a trip hazard and not as prone to tip over. It's easy to assemble with the telescopic tubing, it packs small, and being adjustable is quite versatile. I use mine in my art studio for shoots as a backdrop or as a makeshift tripod for holding my camera or extra lights. A side bonus to having this hardware handy is that I became more motivated to exhibit at additional events, like at local art fairs.
I bought an inexpensive black cloth shower curtain at Walmart as the backdrop, hung it with shower rings, and secured it on each side with large binder clips. I used double-sided Velcro tape to attach my branded banner over the shower curtain and a few small binder clips. I used to hang sample prints off of the overhead banner but it lacked visual appeal and distracted from the impact of the banner.
Business cards and a visible QR code are at the front of the table. Some vendors display their business cards in attractive containers.
It's sensible to cover your booth overnight. I used an opaque bed sheet secured with bulldog clamps from the dollar store. The cash and card reader I take with me, along with a list of items that need to be restocked if I'm running out.
Payment
For my first event, I ordered the free mini-Square Reader. I soon discovered its limitations and unreliability. It accepts only a few types of payments and works inconsistently. Thereafter, I upgraded to the ~$ 60 CAD device which is a chip & PIN contactless card reader. I highly recommend having a proper point of sales reader or you'll miss out on sales. It's possible to find a used one or borrow one if you're hesitating about the investment. You can pair your Square account with the App on your mobile device with any reader, granted that it's one at a time.
I don't normally purchase power or WIFI at events. I use my data though I've heard others turn their mobile device into a hotspot. The hotspot option tends to drain batteries, so it's advisable to bring a portable charger or a USB power bank. For me, a charger for my devices was sufficient, and extra AA batteries for my decorative string lights.
For my Cash float, I brought $810 in cash, divided as such:
I wear a money belt. Some vendors use a lock box instead.
If you're wondering about charging a sales tax or an additional % to cover your card reader processing fees, that's up to you.
My preference is to charge customers the price as marked so there are no hidden fees or surprises. Most small vendors seem to do it that way as well. Since I'm self-employed, I do my own bookkeeping but my accountant deals with everything that's required at year-end for filing tax reports.
Travel
Test your table display beforehand. I practice my setup at home each time and take photos as a reference guide to facilitate quick assembly at the venue on setup day. I prefer to set up at the venue the night before when feasible.
Below is a list of the extra items to bring.
For transporting your gear to and from the venue, if you have large quantities or oversized items you can book access to the loading docks for setup and teardown. Ask about flatbed dollies to borrow.
For most small vendors, we can roll in the front door. I managed to fit everything into a 45-quart locking bin and a large gym bag stacked on an adjustable luggage cart. I have seen hard-case roller luggage as well as collapsible utility wagons for carting gear around.
The decision of what travel gear to choose will be largely influenced by your transportation mode to each venue, whether you plan to 1) fly, 2) drive, 3) public transit, or 4) walk.
Keep in mind that most conventions are in densely busy downtown areas which adds challenge to logistical maneuvering, therefore plan for extra time and for higher parking rates, if driving.
Rules
The information shared in this guide pertains to conventions in Canada. If you are looking to table in a country where you do not reside as a citizen or permanent resident, best to double-check regulations. Ask event organizers directly if you're unsure.
Either way, read your event guide and double-check all policies, rules, and regulations. Some restrictions vary by event or year to year. Study the floor plan, familiarize yourself with load access, setup/teardown, and show hours.
Is it worthwhile?
In terms of earnings at these events, I will dedicate a follow-up article and video at the end of my second convention season with a complete financial breakdown.
In my first event, there was no profit because of the upfront investment: display hardware, card reader, branding collateral, packaging materials, product inventory, transport equipment, storage bins, etc. As well, I made poor choices with my travel plans and paid higher fees as a result. I did somehow break even though.
In my second event, profit after expenses was in the $1,000 CAD range. I implement improvements from experience at each event, and consequently, there's a rising graph of earnings to match my efforts.
As for measures of success, I gain rewards from:
Experience in running my own art business
Networking in the industry
Sharing info with other fellow artists
Exposure for my art
Meeting fans in person
All the fun!
Artist Alley resources
Convention websites plus check their Facebook and/or Twitter for announcements and updates.
I joined the Canada Artist Alley Facebook Group for:
finding buddies to share tables, travel & accommodations
insider info about events
lists of suppliers, vendors, and other Con events
advice on basically everything!
If you are solo, you can look for helpers through these groups. Also, once on-site the volunteer crew members are there to lend a hand if you need assistance or a brief stand-in at your booth.
For more ideas on table setups, a web search of "artist alley display" will bring up photos, blogs, and videos to inspire you.
In conclusion, Artist Alley is a great opportunity for amateur and semi-professional artists to showcase their work to fans. By keeping in mind the tips I've shared, you can increase your chances of success in your application and make the most of the experience.
Be sure to set your notifications on for my YouTube channel updates.